WITH MED-ITALIA QUALITY IS CERTIFIED
For many years, Med-Italia Biomedica, has obtained from TÜV Rheinland, internationally accredited notified body, EN ISO13485 certification and CE mark, in accordance with Directive 93/42 / EEC which was recently amended by Directive 2007/47 / EEC.
Receipt of the most recent international certifications in biomedicine allow Med-Italia to provide its clients with sterile products and advanced procedural kits that ensure maximum efficiency for medical professionals and patient safety.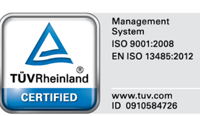 ISO 9001 Quality confirms Med-Italia Biomedica orientation towards formalizing procedures to ensure high quality standards and continuous improvement in their efforts while also gathering customer feedback and suggestions.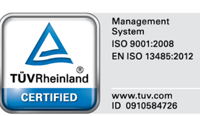 ISO 13485 specifies requirements for quality management systems that enable an organization to demonstrate its ability to provide medical devices and related services that meet the requirements of customers and applicable regulatory requirements.

All Med-Italia products are CE certified per directive 93/42 / EEC, which was recently modified by Directive 2007/47 / EC and on active implantable medical devices with the possibility to transfer within the European Union.
Want to know all about the products and services offered by Med-Italia?
Our specialists will answer all your questions and will advise the best solution for your needs